Real Estate
The Sterling By Omniyat – Twin-residential Tower in Dubai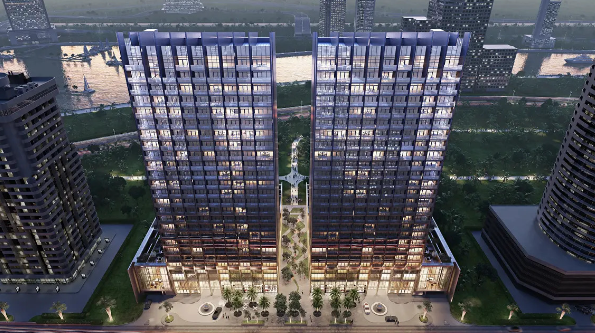 The land of glistening lights and good fortune brings you a magical journey to enhance your life ten folds. The Sterling by Omniyat stands tall at the heart of Dubai beckoning you to take shelter in its infinite grandiose. This twin tower residential by Omniyat Dubai nestled quaintly between the Burj Khalifa and the Dubai Water Canal has the makings of the perfect home you'd want. If you like being caught up in the year-round fiesta Dubai has to offer, make yourself at home in the twin gems of The Sterling by Omniyat.
Life at The Sterling by Omniyat
Omniyat Dubai's twin towers give you an up-close experience of being a global citizen. Located right next to the world's most visited boulevard – Sheikh Mohammed bin Rashid Boulevard, The Sterling by Omniyat is located near the shining heart of Dubai's infamous downtown. 
On the other hand, your view from The Sterling by Omniyat is one you'd never want to miss. It includes:
The world's largest shopping centre housing 1200+ shops by more than 80 coveted luxury brands, elegant restaurants, and bespoke café's, 

The world famous Dubai Fountain,

The exquisite Dubai Opera, a radiant centre bringing together culture, art, and music, and 

A plethora of luxury hotels offering next-level fine dining experiences, an electric nightlife, and endless entertainment options!
Unlock a magical experience for the rest of your life at The Sterling by Omniyat.
Next Generation Amenities by Omniyat Dubai
As you turn away from the eccentric Dubai streets and step inside your home at The Sterling by Omniyat, living becomes a sweeter experience. Omniyat developers UAE offers world-class amenities in The Sterling:

Automated Homes –

Completely automated homes that are ready to accommodate any and all of your needs starting from security to daily convenience, 

Outdoor Swimming Pool –

For those who love unwinding, the 30-meter outdoor swimming pool with its wet deck is the perfect zone to let the stress loose, 

State-of-the-art gym –

A gym equipped with next-gen technology and all equipment a fitness lover needs 

2-Landscape gardens –

Curated and maintained specially to create a serene ambiance and unleash your dopamine for networking or for work,
Concierge Service –

Personal concierges who are ready to assist in curating an experience that's uber personalized and tailored specifically for you,
24/7 Security –

Top notch security consisting of trained and seasoned professional personnel 
Ample Parking Spaces –

Automated and technology-assisted parking spaces so that you can come and go as you please at any time of the day, 
Dedicated Amenities –

The

Sterling by Omniyat,

has dedicated amenities that help make life easier for its resident in each tower
Omniyat Dubai – Elevating Experiences
Omniyat Dubai brings to you an experience you are bound to remember. Since 2005, Omniyat Dubai has been committed to the vision of developing once-in-a-lifetime experiences. The Sterling by Omniyat Dubai is a perfect example of this. Its façade is laced with chrome and reflects the grandiosity of Dubai's beaming lights alongside the stars of the night sky.  Welcome yourself home at The Sterling by Omniyat Dubai and experience life like never before.