Knowing the alternatives available to obtain short-term returns with the purchase of commercial land is essential to establishing objectives and creating business strategies.
Knowing how to earn money from the land without having to build will help those who do not have the immediate construction of a project planned and who also hope to obtain an extra income from their investment. 
When it comes to investing in a commercial lot, most people consider, as part of the investment, building a space to rent and start earning monthly income.
However, there are other options to put this investment to work without the need to build a property, and choosing the most convenient will depend on the location of the land, the surface, and investment objectives.
How to Earn Money from Land without Having to Build?
The land is a limited product and, as such, does not require the construction of a property to make it productive since the demand for these spaces offers a wide range of opportunities to obtain returns in the short term. 
Whether from the planning of the project you do not intend to build or due to lack of resources, we will tell you about the main options to generate income with the land without construction.
There are many vacant lots that are just waiting for years to pass to increase their value. However, there are several business ideas to make money with a piece of land that you can implement. Below we will talk about the most popular ones and what provide greater benefits.
1. Sell the Land
Considering that the investment of a piece of land can increase between 12% and 20% a year —as long as it is in an area of ​​accelerated growth—, putting it up for sale is one of the ways to earn money in the medium term without investing a lot of capital or effort in operation.
The key to getting the most out of the property in this way is to wait a few years for it to acquire a higher value in order to obtain a high Return on Investment (ROI). However, this term will depend on the objectives of each investor and the time in who expects to recover the investment.
In order to obtain the expected profit margin, the land must have special characteristics, which are:
Location:

 If you want to see an accelerated increase in the value of your property, location is essential. Acquire in an area of ​​high surplus value that guarantees returns in the medium and long term. Each city has privileged areas

Accessibility:

 In addition to being well located, your property must be accessible. If you have the idea of ​​buying to sell again, think about the needs of the future owner who buys it with the intention of starting a business. You may ask yourself: is it close to residential areas? Are there major avenues nearby?

Urbanization:

 Most of the land is sold without public services; however, there are real estate companies —such as

Sky Marketing

— that make urbanized land available to you, which helps to increase its value

Price:

 One recommendation is to buy land in pre-sale because they are usually cheaper and offer the opportunity to earn extra money on the sale if it was purchased below its market value

Land use:

 It is still possible to find land in a rustic state that is usually cheaper. However, this will only be viable if you have the necessary time to carry out the paperwork that entails establishing the type of land use on the property; otherwise, on the contrary, it is better to acquire one with this process already completed

Documents in order:

 To carry out the sale of a property without setbacks, it is necessary to have the necessary documentation in order, which will not be a problem if, since the purchase, you acquired with legal certainty and keep the corresponding tax payments up to date
If it is not intended to sell in the short term, putting it up for rent will be the most viable option, since, in addition to giving time for its value to increase, it allows you to maintain possession of the property and even use it as collateral for a bank loan.
2. Rent the Land to Franchises
Another option to earn money from land is to lease it to small businesses or franchises looking to expand into areas with potential for business growth. To do so, the land must be located in places of rapid growth and meet other requirements established by companies, such as:
Minimum surface

Land use

Accessibility and visibility

Documentation in order
Opting for the rental of land to franchises is an alternative that guarantees stable and constant income in the medium and long term due to the permanence time of these businesses; in addition, for these companies, it is more convenient to rent a larger number of plots than to buy just one.
The advantage of this is that it is not necessary to have a building or premises. For example, in the case of franchises, they are the ones who build according to the specifications required for their establishments.
This is a way to generate constant passive income because there will always be companies willing to pay rent if your land is suitable for the needs of a business.
If you want to know more details about renting land, we invite you to read the brief guide on how to make a profit by renting land that we have prepared for you.
3. Rent the Land for Parking
The lack of parking is one of the main obstacles that businesses face. If the land is located in a commercial growth area, it will be very convenient to use it as a parking lot.
You can lease the land to someone who is willing to use it for this purpose. In this way, you avoid the expenses involved in setting up a proper parking lot and charging a comfortable monthly payment.
Another option is to prepare the land for parking yourself. Unlike building a facility, it will be much cheaper because it only requires paving, marking the area for parking spaces, and perhaps building a small shed.
Leasing the land with the space already prepared can generate a higher income, or in any case, if it is well located in a commercial area, the same tenants could rent a fixed space paying a pension.
4. Rent the Land for Storage
The rapid growth of electronic commerce has boosted the rental of spaces for storage and distribution of merchandise in the industrial sector since it represents 34% of the meters rented by the logistics sector.
Despite being a business with the greatest growth in the Metropolitan Area of Pakistan, various regions of the country also offer great potential for renting land for storage due to the commercial exchange that it establishes with different parts of the world.
Since 2019, there has been an increase in the rental of spaces for logistics activities, whose main source has been e-commerce. This is a way that allows you to earn money from home using digital platforms to promote your rental properties.
If you own more than one piece of land, want to go into real estate, and want to make money online, it might be worth spending some of your budget on an online course on the best ways to promote your properties online. You can even find a youtube channel of the many that exist focused on this topic.
5. Rent Land for Billboards
Advertising is a fundamental part of the commercial strategy of any company, so if the land is located on the main avenue —or close to roads that guarantee high vehicular traffic— leasing it for the installation of billboards will be an excellent option.
In this case, having the best location will increase the chances of reaching an agreement with an advertising company in the medium or long term since they always seek to place billboards or billboards on the banks of a highway or main avenues.
It is a convenient alternative to obtain a monthly income without making an additional investment to purchase the land. The only procedure that must be carried out to rent a plot of land to advertising companies is to obtain an endorsement from the city hall, and if located in an area close to toll-free federal highways, it is necessary to request a special permit.
It is pertinent to mention that when coming into contact with advertising companies, another business opportunity linked to this arises: affiliate marketing.
How does it work? If you own multiple pieces of land and are used to advertising it for lease, you may have a website. If this is the case, you can make money online with an affiliate program.
This offers services and virtual assistance for those who have an online store or a website where ads can be placed. This is very simple; it is about authorizing third-party advertising on your website in exchange for receiving a commission for actions carried out by users with said ads.
This is the perfect opportunity to earn double income with billboards and web advertising.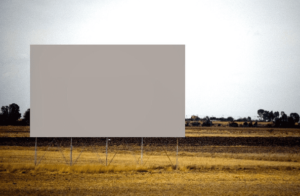 6. Rent the Land for Events and Meetings
Some investors—usually first-timers—don't know how to make money from a greenfield lot and are unaware that having a large property opens up the possibility of renting it out for outdoor events.
This is an excellent business idea because a large space facilitates the installation of children's games and furniture for meetings, such as chairs, tables, and even a stage.
The benefit of this is that you only have to worry about the space is clean, with basic electricity and drinking water services, and the rest will be taken care of by the caterer or event organizer.
The location is an aspect that will come into play if you decide to rent the land for events since, thinking about the comfort of their guests, the hosts always look for a site that is easily accessible.
For this use, it is also important to consider the availability of ample parking space, as this will help the property stand out among the supply of land for rent for events.
The number of events for which it can be rented is wide and ranges from birthdays, to weddings or XV years, in addition to the possibility of renting it to traveling events such as fairs or circuses that come to the city and stay a couple of weeks.
A strategy to make this type of business profitable is to advertise on the most important social networks such as Facebook and Instagram. You may require graphic design services to give it a more professional image. For this, you can hire freelance designers who do the work in exchange for a commission.   
Generate Profit with a Piece of Land
Thanks to the possibilities of use offered by commercial land, investors have more business options that allow them to make their investment yield without having to allocate more capital or wait long periods to obtain a constant income.
Earning money fast with the land is possible; in addition, buying a land or investment lot is the best option to guarantee your retirement and grow your assets, increasing their value over the years. 
At Sky Marketing, we have commercial land in Pakistan, developed in areas that will allow our investors to integrate their property into the rental market, satisfy the demand of the different sectors and begin to obtain returns.
If you are interested in knowing our developments in Pakistan, such as https://www.skymarketing.com.pk/new-metro-city/, contact us so that a specialized advisor can provide you with detailed information and guidance on how to earn money from land by making a successful investment.