Construction
5 Amazing Ways Contractors Can Give Back To Their Community
Charity begins at home, no doubt. And as professionals, besides providing quality and top-notch service to your clients, you can take some time out to do something good for other people.
Contractors, for instance, make up a vital part of any community. They interact and see the reality of things around them daily. And while they already make a difference through their jobs by offering assistance to anyone needing help with fixing or building their homes, they can make an even bigger impact by giving back to their communities through various initiatives and activities.  
For contractors out there looking for how to make a difference beyond their professional interactions, here are some amazing ways you can give back to your community.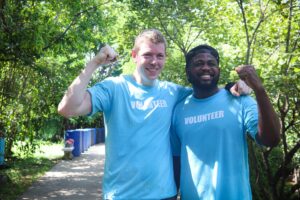 One of the many ways to make a difference is to help provide or meet the needs of those around you. And while dipping your hand into your pocket directly might not solve it all, organizing a fundraiser to gather as many funds with other professionals in the industry can make a big difference.
The fundraisers can be aimed at different purposes or immediate needs of the community. For instance, it can be done for various causes, like cancer awareness, prevention, and treatment. It can also be to provide financial assistance to families in need or even stand behind non-profit bodies creating awareness and support for mental health, like the fundraising by the plumbing crew at Dan's. 
You can look into your community's concerns, research non-profit organizations that need financial support to continue carrying out their causes, and help make a fundraising campaign to keep the good work going.  
Volunteering can come in a variety of ways. And as a contractor who has a skilled team and quality equipment at your disposal, you're more than capable of extending a helping hand to your community.
Contractor companies or bodies can form a volunteering club aimed at a variety of needs of the community. For instance, you can reach out to your customers and solicit suggestions on areas or aspects of community life that require a little helping hand or extra support for you to focus on. This way, you are not just hitting blindly but doing things the community needs. 
You could also partner with a non-profit body or organization and focus on a specific cause that aligns with them and chair the volunteering efforts, like a plumbing contractor company creating a group to educate the community about unsafe water consumption and best plumbing practices.
Another way you can make a difference is by conducting free home inspections and consultations with homeowners within your locality. This can be a way to get to know them and provide them with expert assistance for their homes. You could also offer free or discounted services, every once in a while, to people or clients who meet certain criteria. For instance, your company could offer such incentives to families with a member on active military duty, to clients who are widowers or widows, to single parents, and so on.  
This way, you are not only helping tackle a technical issue within their homes, but you can also put a smile on the face of that family or individual, and word will surely spread of your good deeds. And as the natural law states, what goes around comes around.  
Offer Mentorship Programs 
With your and your team's skills and expertise, your company can establish a mentorship program to share knowledge and train members of the community interested in your trade. You could also extend this opportunity to individuals striving to be as professional as possible in the line.
Furthermore, you can create a help forum where fellow contractors or community members can share and learn professional tips about home maintenance, must-have tools, DIY projects, and quick repairs, to name a few. You never know who needs a guide or an alternate way to tackle a job relevant to your trade. 
Lastly, as a contractor, you can partner with local schools in your community and offer trade scholarships for students interested in picking up your trade. The scholarship's scope could vary, but it, nonetheless, goes a long way in encouraging younger ones to follow the path of workmanship and have a bright future ahead of them.  
Conclusion
When it comes to giving back to the community, the means and ways are endless. For one, you can conduct fundraising events, do volunteer work, offer free services, launch a mentorship program, and even offer scholarships. So far as you do not limit yourself and your company, you can find many amazing ways to give back to your community and make a difference in every way.