Home Decor
Hotel Door Signs: Complete and Comprehensive Guide
It's difficult to find another place like a hotel where door signage would be the same important. Hospitality facilities are places where to which new visitors come literally every day. That's why understandable navigation in hotels, which is ensured by hotel door signs, is a matter that is crucial to be considered.
For that reason, let's learn more about the importance of a hotel door sign. Also, let's discover why the Bsign store is the best place to buy such interior design and navigation solutions online.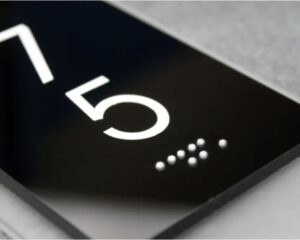 Types of Hotel Door Signs
Before you place a bulk order in the Bsign store, consider whether you are aware of all the types of door signage you might need in a hotel:
Door Numbers: The most obvious and the most necessary option for a hotel. These plaques are used to number rooms and help guests find these rooms quickly and without any additional hustle.

Directional Signs: Special plaques that help visitors navigate across premises. In hotels, directional signs are used to show directions to different wings of the buildings, floors, elevators, main staircases, and so on.

Information and Prohibitory Signs: Plates that are used to indicate the location of specific premises, such as laundry rooms, reception, restaurant, or administration rooms, or inform guests about things forbidden in the facility, including smoking, littering, pets, etc.

Restroom Signs: Plaques that are attached to the doors of restrooms in order to help guests quickly find their way in an urgent situation. In hotels, it might be not necessary to distinguish restrooms for women and for men, but if you need such solutions, you can find them in the B sign assortment.
Materials and Manufacturing Options for Hotel Door Signs
Bsign specialists understand both the aesthetic and functional needs of hotel managers that's why they craft hotel signs of materials that can perfectly satisfy both these purposes — wood, stainless steel, and acrylic glass. The cutting-edge UV printing technique used during the manufacturing process ensures luxurious gleaming and proper visibility of all numbers, letters, and symbols on plaques.
Regular Maintenance and Updates of Office Door Signs
Although Bsign hotel signs are manufactured of the highest-quality materials that feature great durability, they should be maintained properly in order to last for as long as possible. Here are some valuable tips you should consider for hotel signage maintenance:
Clean regularly: Regularly clean your door signage using mild soap and water or a non-abrasive cleaner. Avoid using harsh chemicals or abrasive materials that may damage the signage's surface or printing.

Inspect for damage: Periodically inspect your door signage for any signs of damage, such as cracks, peeling, fading, or warping. Address any issues promptly to prevent further deterioration or loss of functionality.

Retighten or replace hardware: If your door signage includes hardware such as screws, bolts, or brackets, check them regularly for looseness or damage. Retighten or replace them as needed to ensure that the signage remains securely in place.

Check for visibility: Verify that your door signage remains visible and legible from a distance, especially if it includes important information such as room numbers or safety instructions. Clean or replace signs that are faded, worn out, or obstructed by other objects.

Address vandalism promptly: Unfortunately, vandalism can sometimes affect door signage. If you notice any graffiti, stickers, or other forms of vandalism on your signage, address it promptly by removing or covering it up to maintain a professional appearance.

Update information as needed: Door signage may need to be updated periodically with new information or changes, such as updated room numbers, business hours, or contact details. Make sure to review and update your signage as needed to keep it accurate and relevant.

Train staff on proper care: It's important to train your staff on proper care and maintenance. Provide guidelines and instructions on how to clean, inspect, and report any issues with the door signage.