Roofing
How To Prepare For A Roof Replacement
Your home's roof is one of its most important components, protecting you and your loved ones from the elements. But when it's time for a roof replacement, it can be a daunting and overwhelming task. From choosing the right materials to finding the right contractor, there are numerous decisions to make and steps to take. However, proper preparation can make all the difference in ensuring a successful and stress-free roof replacement. 
This article will guide you through the necessary steps to prepare for a roof replacement so that you can feel confident throughout the process. If you want to know how to achieve a smooth roof replacement, read on and learn now!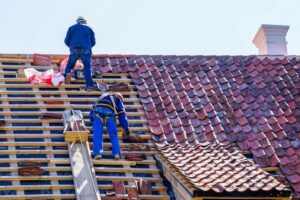 When planning a roof replacement, you should consider your family's safety. The presence of workers, equipment, and materials can be disruptive and stressful for children as well as pets. Because of this, it may be wise to arrange for them to stay with family or friends or board them at a nearby facility during the roof replacement.
If your children and pets will not be able to leave the house during roof replacement, you should take extra precautions for their safety. Consider designating a safe area of the house where they can play and rest without getting in the way of the workers. 
Inform the workers where it is safe for them to work and ask that they do not use other parts of your house as a workspace. You should also watch your children and pets so that they don't wander into the area or get too close to equipment near their face
Cover Belongings In The Attic 
Workers will be tearing off the old roof and installing the new one during the replacement, which can create a lot of dust and debris. Some of this debris or damaged shingles may fall into the attic space, potentially damaging your belongings. So, it's important to safeguard your belongings by covering them with a tarp or other protective layer.
Additionally, covering your belongings in the attic will make it easier for the workers to access the roof. They'll not have to worry about accidentally knocking something over or damaging your items.
Remove Hangings From The Wall
When the roofers begin working on your home, they'll create a lot of noise and vibrations that can cause wall hangings to shake or fall off the walls. This damage could injure someone in the vicinity. If possible, you should take down all pictures and decorations from the walls in rooms directly below your roof.
Removing the hangings may take a little extra time and effort, but it's a small price to pay for a successful and stress-free roof replacement.
Relocating your vehicle is crucial when preparing for a new roof. The workers will need to park their trucks and equipment near your home to perform the work, making it difficult for you to park your vehicle. Furthermore, debris from the roof replacement, such as shingles and nails, can fall onto your car and cause damage. 
Parking your vehicle in the area where a roof replacement is about to take place can create obstacles for workers and lead not only to damage done by their equipment but also to injury. Hence, it's best to park your vehicle at a friend's or relative's house or nearby parking lot until the work is complete.
Remove Satellites Dishes Or Antennas 
Satellite dishes or antennas are typically mounted on the roof and can interfere with the roofers' work and get damaged during the roof replacement process. Removing any satellite dishes or antennas before the workers arrive would be best to avoid complications and ensure a smooth roof replacement.
You can remove the dishes or antennas yourself, but it's a good idea to call in a professional if you're unsure of what you are doing. Once removed, you can store them safely or reinstall them once the roof replacement is complete.   
Notifying your neighbors about the upcoming new roof installation project is always courteous. Sharing the schedule, expected noise levels, and work duration with them can make your neighbors better prepared for what to expect during your renovation project.
Good communication with your neighbors can help avoid potential conflicts and maintain a positive relationship within the community.
Conclusion
A smooth roof replacement process begins with proper preparation. It's also important to consider the safety of your family, pets, and workers during the project. By working together with the roofing company and being proactive in your preparations, you can enjoy your new roof and the benefits that come with it. Remember, a well-prepared roof replacement can significantly affect your home's long-term health and value.